Bike tyres
6. 5. 20xx | Blog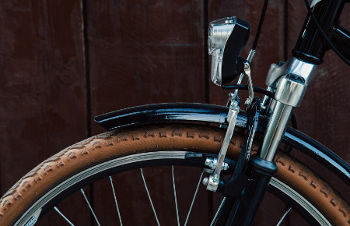 This is a very important aspect of regular maintenance and the single easiest way to tune any ride. Tire pressure can be altered to tweak what you want from the ground and your bike. Appropriate tire pressure depends on rider weight, tire size, and riding style, which considers speed and rider finesse.

If you are not already experimenting with tire pressures you should be. A tire run at high pressure will feel faster, partly because of lower ground friction due to decreased footprint and partly because of terrain feedback transmitted though the tire instead of absorbed by it. But a high-pressure tire will not conform well to the ground surface and, being hard, it will harsh your ride. Conversely, running pressure too low will result in a wallowing, slippery feeling ride and an increased risk of flatting.

There is a window between these extremes wherein you can actually ride just as fast or faster than you can at high or low pressures because your tires are conforming to the ground surface and absorbing static from the terrain without fully deforming. Riding high pressures often results in less traction and comfort, reducing one's ability to flow efficiently. So it behooves the regular rider to play around with different pressures in different tires on different terrains.